The East Boston Community Council (EBCC) was founded in 1978 with the mission of promoting racial harmony. Today our community immigrant organization in Boston, MA, promotes the advancement of Latino immigrants of all ages. We do this by way of education, services, advocacy, community organization, and leadership development. Many of our staff members are bilingual and immigrants themselves. They're well-equipped to improve the lives of others.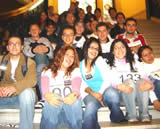 EBCC became an affiliate of UnidosUS, previously known as NCLR, in March 2009. UnidosUS partner with a national network of nearly 300 Affiliates across the country to serve millions of Latinos in the areas of civic engagement, civil rights and immigration, education, workforce and the economy, health, and housing.
Through their participation in our immigrant community programs, newcomers create support groups and acquire skills and information to achieve their goals. In addition, immigrants participate in collective action to improve the quality of life in East Boston as well as the advancement of immigrant rights at the local, state, and national levels. These programs are funded by fees, government contracts, individual contributions, grants from corporations and foundations, and support from the United Way of Massachusetts Bay.