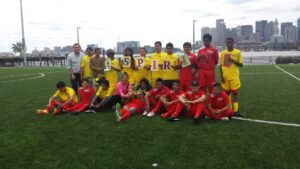 EBCC is your local resource for top-notch nonprofit immigrant programs in Boston, MA. Everything we offer is either free or low cost, and we work with people of all ages. Our accredited counselors collaborate with immigrants to obtain legal documents such as work permits or green cards and legal residence cards, which allow families to gather and obtain US citizenship. We're equipped with bilingual, compassionate staff members who care about you and your family and want to ensure that you have the best possible experience in this country.
Our immigration support extends to everyone, including those who do not yet have legal status. We believe everyone deserves a chance for legal citizenship and the pursuit of happiness and are willing to do what it takes to help the immigrants of Boston to achieve those goals. Get in touch with Luisa Chew, our immigration coordinator, to learn how we stick with you to navigate one of the nation's trickiest processes.
Youth Programs for Young Immigrants
Young people are one of our most important demographics, and we cater to them in a number of ways. We make education a main focus of many of our programs and offer youth development opportunities. This helps to strengthen immigrant families as a whole and opens the doors for a brighter future.
Our programs are as varied as the children they serve. We have after school and summer options, English classes, and homework help too. Our community center is a place where children of all ages and income levels have access to computers and can take advantage of tours, seminars, and student counseling. We regularly put together organizational and leadership opportunities for young people through campaigns to access university studies for immigrant students.
Types of Immigration Support
We aim to improve the overall quality of life for immigrants and give them the resources they need to become productive US citizens. As such, our work covers everything from registering voters and educating about the electoral process to helping parents improve public school systems so their children can succeed. We also offer basic and intermediate English classes for mothers with free childcare during the class; sessions are offered on weekends for those who work during the week.
Those we serve have the opportunity to give back by helping us work for social justice on issues that affect immigrants. Some of these include public education, access to higher education, and immigration policy.
ESL & Adult Education Program. Strong components of the program are Citizenship Education & Adult Technology. The technology program promotes computer literacy and technology access by adult Latino immigrants to support their achievement of a wide range of educational, employment, parenting, and personal goals. EBCC offers classes of citizenship for the preparation of the U.S. naturalization interview promotes the effective functioning of parenting Latino immigrant women in their roles as parents, homemakers, consumers, and neighbors through the acquisition of English language proficiency, the mastery of life skills, and the development of support networks. The program provides (1) beginning and high beginning-level ESL instruction; (2) Spanish-language courses on women's health and parenting. In addition, it offers Hiset Practice Tests & Exam Reviews.
ASPIRING is a year-round, out-of-school-time program that promotes educational achievement by Latino immigrant students at East Boston High School (EBHS). The program offers (1) ESL instruction; (2) study skills courses; (3) homework help; (4) open access to a computer lab; (5) health promotion and social issue workshops; (6) enrichment and recreational activities; and, (7) counseling and advocacy services that address school, personal, and family issues.
Nuestra Voz Cuenta/Our Voice Counts! promotes the achievement of social change through participation in the electoral process. As a non-partisan initiative, Nuestra Voz Cuenta! undertakes voter registration, education, mobilization, and leadership development among East Boston residents who are low-income, Latino immigrants, and/or young people ages 18-25.
Family Support Services promotes individual and family well-being by providing Latino immigrants with (1) Case management through a collaborative process of assessment, planning, and facilitation of options and services; (2) cultural orientation, and crisis intervention; (3) short-term, problem-focused counseling to high school students participating in EBCC's youth programming around a wide range of school, personal, and family issues.
MO

TU

WE

TH

FR

SA

SU
28

29

30

31

1

2

3
Events for September
1
No Events
Events for September
2
No Events
Events for September
3
No Events
4

5

6

7

8

9

10
Events for September
4
No Events
Events for September
5
No Events
Events for September
6
No Events
Events for September
7
No Events
Events for September
8
No Events
Events for September
9
No Events
Events for September
10
No Events
11

12

13

14

15

16

17
Events for September
11
No Events
Events for September
12
No Events
Events for September
13
No Events
Events for September
14
No Events
Events for September
15
No Events
Events for September
16
No Events
Events for September
17
No Events
18

19

20

21

22

23

24
Events for September
18
No Events
Events for September
19
No Events
Events for September
20
No Events
Events for September
21
No Events
Events for September
22
No Events
Events for September
23
No Events
Events for September
24
No Events
25

26

27

28

29

30

1
Events for September
25
No Events
Events for September
26
No Events
Events for September
27
No Events
Events for September
28
No Events
Events for September
29
No Events
Events for September
30
No Events